Lethis Path Of Progress Wiki
Welcome to the Lethis – Path of Progress Wiki!
The comprehensive
Lethis – Path Of Progress
wiki reference; written and maintained by the players.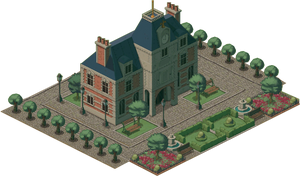 About Lethis - Path of Progress
Lethis – Path Of Progress is an old school 2D city builder set in a Victorian Steampunk universe called Lethis. The game is inspired by old Impressions Games productions of the 90's. You will have to build and manage Cities, provide Resources for your inhabitants while making sure there are enough workers to sustain your Production Lines. Trade with others cities, honor the requests of the Emperor and make your citizens happy. Will you be able to handle the issues of an Industrial Revolution? Mass production, scientific progresses and class warfare are just a few of the challenges you will have to overcome.
With the discovery of condensed steam as a source of energy, the world of Lethis sees an unprecedented Industrial Revolution. As a result, the Empire enters a period of urbanisation. New cities are built everywhere. This rural exodus leads to new towns in strategical places to ensure the growth of the Empire. A time of great change is also a right time for new discoveries and innovation in science. Cities are built around great monuments like a gigantic Zeppelin Hangar or Botanic Gardens.
Release Announcement Video
Game Basics
Handy Guides
Miscellaneous
Lethis Game Features
A campaign mode containing 26 missions with 3 difficulty levels
A sandbox mode for unlimited fun
Over 24 different Resources to manage
Walkers roaming the city, making it lively
Maps that reach up to 400 per 400 box tiles
An amazing soundtrack with over 20 different songs
Wiki Community
To write a new article, just enter the article title in the box below.
Registering
Feel free to register and join our user base by clicking here.
Not sure where to start?
Find out more about how to edit the wiki on the Help Wiki.
Adding content
If you are unsure of what to do or how to create a page, search for a few articles on the same topic and see what they look like. You can always view the source code in a wiki and learn from what others have done.